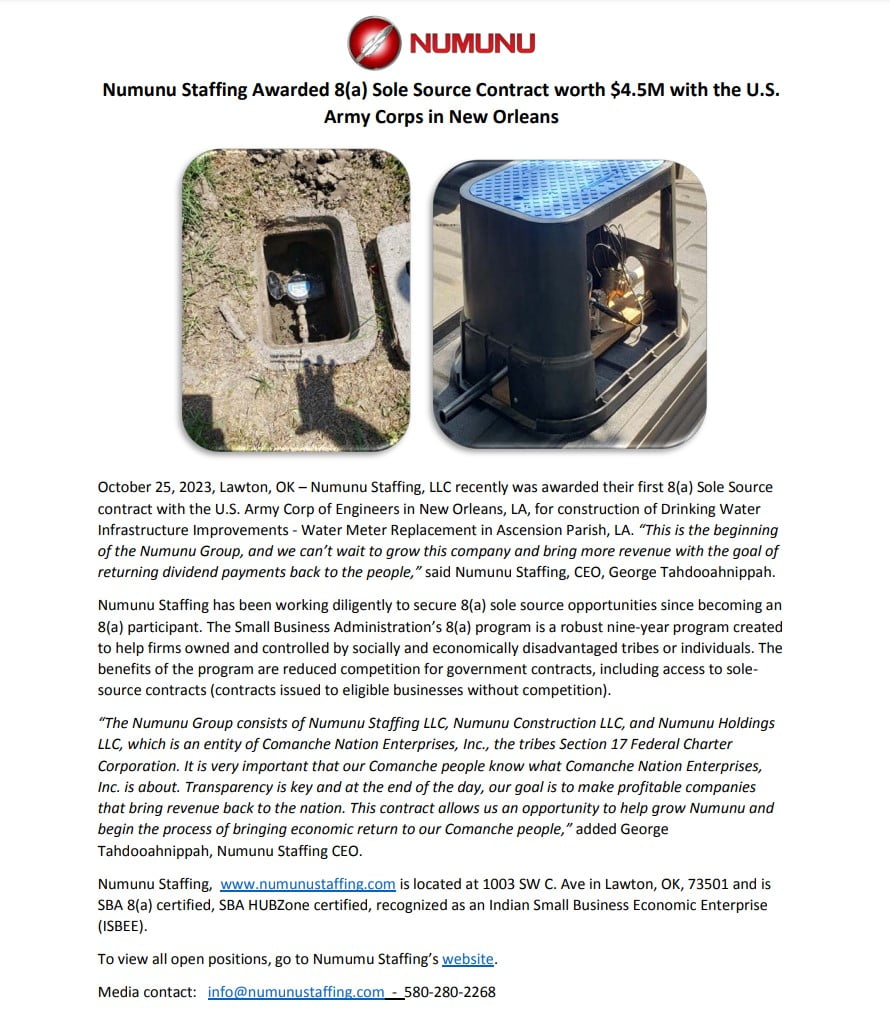 Numunu Staffing Awarded 8(a) Sole Source Contract worth $4.5M with the U.S. Army Corps in New Orleans
October 25, 2023, Lawton, OK – Numunu Staffing, LLC recently was awarded their first 8(a) Sole Source contract with the U.S. Army Corp of Engineers in New Orleans, LA, for construction of Drinking Water Infrastructure Improvements – Water Meter Replacement in Ascension Parish, LA. "This is the beginning of the Numunu Group, and we can't wait to grow this company and bring more revenue with the goal of returning dividend payments back to the people," said Numunu Staffing, CEO, George Tahdooahnippah.
Numunu Staffing has been working diligently to secure 8(a) sole source opportunities since becoming an 8(a) participant. The Small Business Administration's 8(a) program is a robust nine-year program created to help firms owned and controlled by socially and economically disadvantaged tribes or individuals. The benefits of the program are reduced competition for government contracts, including access to sole-source contracts (contracts issued to eligible businesses without competition).
"The Numunu Group consists of Numunu Staffing LLC, Numunu Construction LLC, and Numunu Holdings LLC, which is an entity of Comanche Nation Enterprises, Inc., the tribes Section 17 Federal Charter Corporation. It is very important that our Comanche people know what Comanche Nation Enterprises, Inc. is about. Transparency is key and at the end of the day, our goal is to make profitable companies that bring revenue back to the nation. This contract allows us an opportunity to help grow Numunu and begin the process of bringing economic return to our Comanche people," added George Tahdooahnippah, Numunu Staffing CEO.
Numunu Staffing, www.numunustaffing.com is located at 1003 SW C. Ave in Lawton, OK 73501 and is SBA 8(a) certified, SBA HUBZone certified, recognized as an Indian Small Business Economic Enterprise (ISBEE).
To view all open positions, go to Numunu Staffing's website.
Media contact: info@numunustaffing.com – 580-280-2268