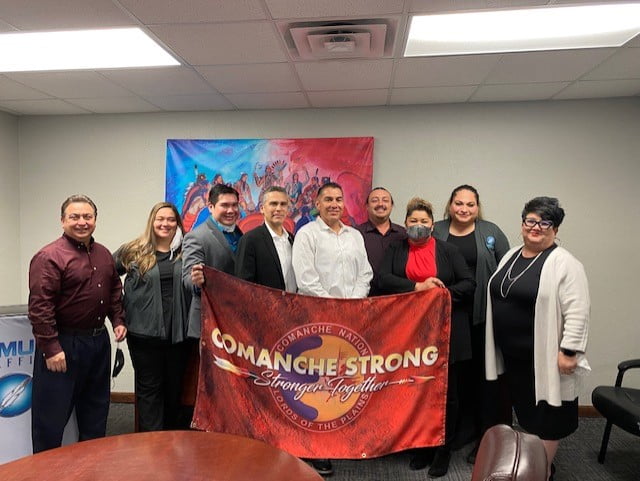 Accomplishments are Adding Up for Numunu Staffing after just 1 year of Operations
Lawton, OK – December 15, 2021 — Numunu Staffing, LLC is wholly owned by the Comanche Nation of Oklahoma and is a Comanche Nation Enterprise, Inc. entity. The Lawton, OK-based start-up launched during a global pandemic with very little initial financing, a passionate staff of dedicated tribal members, and the idea that a for-profit tribally owned staffing company could prioritize recruiting and placing candidates in rural Oklahoma, empowering tribal members to find meaningful employment, and generate profits for the tribe.
"Reflecting on our ups and downs over the past 12 months, I can honestly say, I'm proud of how far we've come, what we've learned and our outlook for 2022 – it hasn't been easy, but it's definitely been worth it," said George Tahdooahnippah, CEO of Numunu Staffing, LLC
The initial team, George Tahdooahnippah, CEO, Steven Riley Mowatt, COO and Edward Tahhahwah, Lead Talent Recruiter built the company's database of candidates; and with the help of their first few clients, Comanche Nation Construction, Comanche Nation Entertainment (Operating 5 casinos in Oklahoma), and the Comanche Nation Housing Authority, the team got their first placements.
A year later, the firm boasts multiple blanket purchase agreements with the US Department of Health and Human Services, Indian Health Services division (IHS) in Oklahoma, the City of Oklahoma City, the State of Oklahoma (in partnership with Excel Medical Staffing), Sigma Foods/Bar-S, Banc First and others.
When asked why he took on the challenge of launching a start-up business, Steven Riley Mowatt, COO of Numunu Staffing said, "This was an opportunity to serve our people and community in an impactful way. Numunu Staffing's success focuses on the economic and workforce development of Native Americans and our communities across Oklahoma."
Since it's launch, Numunu Staffing has placed over 70 people, of which over 60% are enrolled tribal members.
Edward Tahhahwah, Lead Talent Recruiter at Numunu Staffing added, "From an economic perspective, when we keep money recirculating in the tribal economy, the value of that money grows exponentially. For example, when we put a Comanche Tribal member to work in Lawton, they live, shop, and have children in school in Lawton. The money they earn is primarily recirculated in the economy here – it is spent repeatedly in our community. The same is true for Numunu Staffing's profits. Our profits are returned to the tribe to fund education, economic development, and other social programs – staying within the community. When non-tribal government owned businesses earn profits from the work they do for the tribe or tribal businesses, they keep it and most of it leaves our community and our tribe."
"The work we do is very satisfying," said Ashley Joslyn, Recruiting Manager. "We help tribal and non-tribal members find and retain meaningful employment — empowering them to support their families and improve the quality of their lives," she added. "The work does have its frustrating moments – 30-40% of applicants ghost us after setting up an interview and although that number is trending downward, it still happens. Candidates should understand that all companies use candidate tracking systems and record interactions with applicants – We are less likely to prioritize calling a candidate for a job if they have acted unprofessionally in the past. It's our job to screen unreliable candidates out before they get to our clients," she continued.
"Fortunately, most of the candidates we work with appreciate the support and services we provide. As a for-profit business, Numunu Staffing understands that for our clients as well as for our candidates, time is money. We work with applicants to create professional resumes, coach them on effective interviewing techniques and position them to get a job offer quickly," said Edward. "And for our clients, we save them time and money by constantly interviewing and screening candidates on their behalf and only submitting the best match for each job. As a result, clients reduce the amount of time spent screening and interviewing candidates and can fill jobs faster – reducing their overall 'cost-per-hire'," he said, then added, "The best part of our services is that our clients only pay our fees when/if we do our jobs right, and they hire our candidates. Candidates never pay a fee for our services."
If you're interested in exploring employment opportunities, please contact Numunu Staffing at 580-280-2268 or apply online.
Numunu Staffing, LLC, www.numunustaffing.com is wholly owned by the Comanche Nation of Oklahoma and is a Comanche Nation Enterprises, Inc. business entity. The company is based in Lawton, OK, is HUBZone certified, recognized as an Indian Small Business Economic Enterprise (ISBEE). For more information contact info@numunustaffing.com, 580-280-2268.