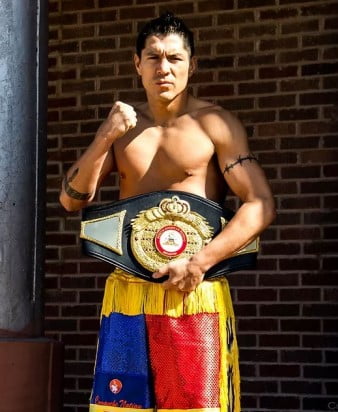 Four-time Middleweight Championship boxer George "Comanche Boy" Tahdooahnippah is inducted into the 2022 North American Indigenous Athletics Hall of Fame
Lawton, Oklahoma: On February 1, 2022, the first North American Indigenous Athletics Hall of Fame (NAIAHF) awardees were announced. George "Comanche Boy" Tahdooahnippah, Comanche tribal member and winner of four middleweight boxing championship titles was amongst the athletes recognized.
"Comanche Boy," a husband and father of 5, launched his boxing career in 2004. "When I started on this journey, nobody believed in me. But I kept going," said Tahdooahnippah. Today, his boxing titles include: 2008 Native American Boxing Council's Super Middleweight Champion, 2011 World Boxing Council's Continental Americas Middleweight Champion, 2012 North American Boxing Association's US Middleweight Champion, and 2014 Oklahoma Super Middleweight Boxing Champion.
He has also been recognized as 2011's Top 40 under 40 Native American Entrepreneur, Goodwill Ambassador Award from the World Boxing Council for his fight against diabetes, and the American Indian Exposition's 2012 Celebrity Indian of the Year award.
Tahdooahnippah worked hard to represent the Comanche people. He had the largest fan base in Oklahoma and was accompanied into the ring with Native American Fancy War Dancers in full regalia, drums pounding from Native American Drum groups, and Native American Rappers. Tahdooahnippah said, "No fighter in the world brought what I brought to the ring."
Comanche Boy's showmanship didn't stop there – he was well known for knocking out his opponents with his power punching, and especially for his post knockout victory war dance.
Tahdooahnippah built a nine-year 31-0 boxing career before his first loss. He fought four ESPN fights including one undercard, HBO pay per view fight at the MGM Grand in Las Vegas, Nevada. "This has been the highest honor I carried as a professional fighter and I did my best representing my Native American people," said Tahdooahnippah.
"Comanche Boy" retired from boxing in 2016 with a record of 34 wins, 3 losses, 3 draws and 2 no contests. Today he continues to fight for his people as Acting CEO of Comanche Nation Enterprises, CEO of Comanche Nation Construction and CEO of Numunu Staffing. He works to diversify and grow the tribe's economy, develop the tribe's workforce, actively employ and mentor's tribal members, and develop future Tribal leaders. The companies he leads employ a nearly 70% Native American staff.
To learn more about NAIAHF and meet the other 2022 inductees, visit them at www.naiahf.org.